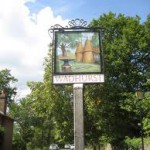 People in Wadhurst will have the chance to comment on plans to reshape the town's High Street.
East Sussex County Council is launching a consultation on proposals to introduce measures aimed at making it easier for people to cross the road.
The plans include providing informal pedestrian crossing points, relocating bus stops, revising on-street parking arrangements and introducing school buses onto the Uplands Community College site.
Meanwhile, a one-way system could be introduced in a section of Church Street, and one of the accesses to Church Street from High Street could be closed.
The proposals were drawn up after a previous public event which asked residents to offer their suggestions to improve conditions for those visiting the High Street.
Cllr Carl Maynard, county council lead member for transport and environment, said: "Wadhurst High Street is a thriving area and a focus for activity in the town, and these measures are aimed at improving the street and making it an even more attractive place to visit.
"The feedback we got from the previous consultation indicated people felt improving conditions for pedestrians and the need for better parking provision were the most important issues.
"These proposals are aimed at allowing people to easily access the High Street and to have a safe, pleasant experience while they're there, but we'd really like to hear people's views."
Previously, the council proposed installing a zebra crossing in the street, but concerns were raised about the number of on-street parking spaces which would need to be removed to accommodate the feature.
The revised proposals include installing informal crossing points at intervals along the street and allowing school buses to pick up children on the Uplands Community College grounds.
This could benefit pupils and other bus users, as it would reduce crowding at bus stops in High Street at the start and end of school.
A consultation exhibition on the plans will be held at Wadhurst Methodist Church Hall on Friday 11 October 2013 from 2pm to 8pm and Saturday 12 October 2013 from 10am to 4pm.
People attending will be able to complete a questionnaire, which will also be available online on the consultations section of the county council website from October 11 until Friday 8 November 2013.