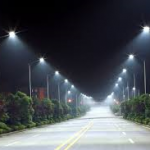 Proposed changes to street lights in the Devonshire and Upperton areas of Eastbourne will be showcased at events in the town.
The events are the latest in a series of consultations as part of East Sussex County Council's bid to save £885,000 by 2016, by changing the way roads across the county are lit at night and replacing existing street lights with modern, energy-efficient alternatives.
The proposals include changing existing yellow lights to white LED lights and dimming lights in some streets after 10pm.
The consultation events will be held on Saturday 12 October 2013 at Leaf Hall, 51, Seaside, and Saturday 26 October 2013 at the Enterprise Shopping Centre, in Station Parade.
Members of the council's street lighting team will be on hand to answer questions and listen to people's concerns between 9am and 12noon on both days.
The planned changes will also be showcased at a stand in the Arndale Centre, in Terminus Road, all day on Friday 11 October 2013.
Work is being carried out on a ward-by-ward basis in Eastbourne and proposals have been drawn up by the county council in consultation with organisations including Eastbourne Borough Council and Sussex Police. Public transport links to each area have also been taken into account.
Comments or concerns about the proposed changes can be made for Devonshire from October 12 2013 and Upperton from October 26 2013 on the consultations section of the county council website.