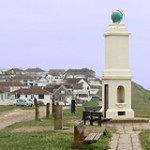 The fascinating history of Peacehaven is traced in a newly-launched archive available to view for the first time at the town's library.
The collection is comprised of items collected by late town historians Bob Poplett and Malcolm Troak, and was donated to the library by Mr Troak's widow.
It documents the history of Peacehaven from the pioneering days of Charles Neville, who founded the town, originally known as Anzac-On-Sea, almost a century ago.
The archive includes a large photographic collection, maps, blueprints, original documentation and other general ephemera.
Cllr Chris Dowling, East Sussex County Council lead member for community services, said: "Bob had memories stretching back to the very earliest days of Peacehaven and he and Malcolm were both passionate about the history of the town.
"They spent many years building up their collection, and this is the first time it's been available for the wider public to see and to share their passion.
"The archive contains a really varied mix of items and offers a fascinating insight into the history of Peacehaven for residents and anyone with an interest in the town."
The collection is fully searchable on the library catalogue, although due to the valuable and fragile condition of the collection, viewing is by appointment only.
More information is available by visiting the library, in the Meridian Centre, emailing library.peacehaven@eastsussex.gov.uk or calling 0345 6080196 and asking for Peacehaven Library.