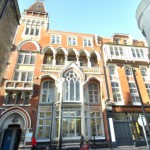 A consultation into services for the new and improved Hastings Library is in full swing.
Members of the public are being asked to help shape the way services are delivered at the improving and expanding library by giving their feedback in a consultation launched earlier this month.
East Sussex County Council is investing £8million to improve library and registration services in Hastings by developing the existing library in the Brassey Institute and expanding into 12 Claremont, the building next to Hastings Library.
The changes will bring the children's library and main library together on the same site and also offer a dedicated local and family history service, linking with The Keep, the new historical resource centre for East Sussex and Brighton & Hove.
The Registration Service will be re-locating from its current location at Summerfields on Bohemia Road into the new building, offering a more modern facility to those registering births or deaths and also provide new, fully-equipped ceremony rooms for marriages, civil partnerships and other ceremonies.
"Libraries are the hub of the community and provide a wide range of important and valued services," said Cllr Chris Dowling, East Sussex County Council's lead member for community services.
"I would urge as many people as possible to complete a short survey and tell us what they want to see in their new local library. The feedback we receive will be valuable and will help us ensure we provide Hastings with a library service fit for the community.
"Let us know what is important to you, it could be a great book to read, free activities for children, help to get online and find a job or discover your family history or the convenience of opening hours."
A short survey is available to fill out online and paper copies are available in local libraries. People can also feed in a quick comment via a promotional postcard that will be distributed around the town, via a comments board in the library and via Facebook or Twitter. The consultation is open until Sunday 1 December, 2013.
The survey can be found on our consultation pages
You can also tweet us at #hastingslibrary or comment on facebook.com/eastsussexlibraries
For more information contact 01273 335551.