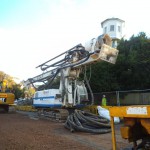 A GIANT drill has been turning heads in part of Hastings Old Town as highways crews began essential engineering work.
East Sussex Highways have been employing the services of a state-of-the-art piling rig with a 15m drill to insert reinforced concrete piles into the ground on the west side of Harold Road.
The work has been carried out after cracks started to appear in the road and pavement, due to weakening in a 6m retaining wall which holds back tonnes of earth under the road.
After scaffolding was installed to support the wall at the beginning of the year, crews began preparatory work, moving power and telephone cables, in August, before engineering work began in earnest.
The operation, which is expected to cost around £250,000, will see 38 concrete piles inserted, supported by 12m long steel 'anchors', the west side of the bank faced with concrete and the brick wall on top rebuilt.
The road is currently closed, but highways chiefs hope to reopen one lane, with traffic controlled by two-way lights, by the end of November, and to complete the work by Christmas.
Cllr Carl Maynard, East Sussex County Council lead member for transport and environment, said: "This work has presented a considerable challenge to our highways engineers, who have put an awful lot of time and effort into devising the best scheme to ensure the road is safely supported.
"If we did nothing, the wall would have been in serious danger of collapse, posing a significant danger both to road users and to residents living underneath the 20ft drop from the road to their homes.
"Any operation of this scale will cause some inconvenience, but we hope people will recognise that we simply don't have a choice but to carry out this essential work."
A diversion route is in place during the road closure via Dudley Road, Ashburnham Road and the A259 London Road.