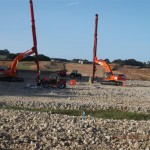 A SERIES of public exhibitions will highlight rapid progress on the Bexhill to Hastings Link Road.
The three events, in Crowhurst, Hastings and Bexhill, will allow people to see how construction, archaeological and ecological work on the road is developing and speak to representatives from East Sussex County Council and contractors.
The first section of the route, running from the junction with the A259 in Bexhill to Elva Way, is expected to be completed by spring 2014, with the entire road on course for completion by May 2015.
Cllr Carl Maynard, county council lead member for transport and environment: "We are very pleased with how work on the road is progressing and we're still on schedule.
"There's an awful lot of work going on along the route, from preparing the ground to lay the new road to carrying out archaeological and ecological work.
"It's very important that we keep the public informed and these exhibitions will offer people the chance to see the work we've already carried out and what we're doing next, as well as having their questions answered.
"When it's completed, the road will open up large swathes of land for housing and business development, creating an estimated 3,000 new jobs and bringing economic benefits valued at £1 billion to the area."
The initial focus of work has been on the Bexhill end of the 3.5 mile route, including construction of the Chapel Path pedestrian underpass and replacement of the Woodsgate Park road bridge.
Other work in the pipeline includes the demolition and rebuilding of the Ninfield Road bridge, in Bexhill, and relocation of outbuildings at Adam's Farm, near Crowhurst.
Meanwhile, archaeological surveys are being carried out along the route, along with ecological measures such as providing alternative homes for badgers, bats, birds and newts whose habitats have been affected by the work.
The exhibitions will be held at Crowhurst Village Hall on Friday, November 22 from 3.30pm to 7pm, Hastings Town Hall on Tuesday, November 26 from 3.30pm to 7pm and Sidley Children's Centre, in Ninfield Road, on Thursday, November 28 from 3pm to 6.30pm.