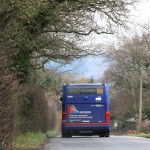 CHANGES to supported bus services and concessionary bus passes are set to be discussed by East Sussex County Council's cabinet.
At its next meeting on Tuesday (10), the cabinet will consider proposals to establish a Public Transport Services Commissioning Strategy, which will examine the future of supported bus travel in the county.
Cabinet is also being asked to consider other changes to how bus services are provided by the council, which needs to make savings of £2.23 million from its transport budget over the next three years.
These include:
– Changing the start time at which people with concessionary bus passes can use their pass from 9am to 9.30am on weekdays, bringing East Sussex in line with national guidelines.
– Removing an old, inherited concession allowing concessionary pass holders in Lewes district to travel for free on dial-a-ride services, bringing the district in line with the rest of the county.
– Holding a consultation on changing the eligibility criteria for companion passes, which allow disabled people who need help travelling to be accompanied by another person travelling free of charge
– Increasing the charge to concessionary pass holders of replacing a lost pass from £5 to £10
The proposals follow a public consultation on bus services held in the summer, in which just over a quarter of respondents (28 per cent) said moving the start time for concessionary bus pass use to 9.30am would have a negative impact on them.
The council has already achieved savings from its transport budget of £227,000 – 40 per cent of the £570,000 it needs to save in 2014-15 – by retendering supported bus services in Lewes and setting up a new joint contract with West Sussex County Council to administer the concessionary fare scheme.
The proposals being considered by cabinet, along with an additional option being examined of negotiating with bus companies to turn some subsidised routes into commercial routes, would allow a further £243,000 to be saved,.
In East Sussex, around 8.2 million out of a total of 21.3 million bus journeys are concessionary journeys. Currently there are around 125,000 bus passes in circulation to residents in the county.