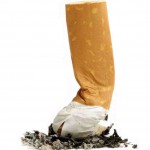 A SHOPKEEPER who sold potentially dangerous illegal cigarettes at his store in Eastbourne is beginning a spell behind bars.
The 12-month jail term given to Jahanjir Aywaz is one of the longest sentences handed down for a prosecution for illicit tobacco products in East Sussex.
The 27-year-old was caught after officers from East Sussex Trading Standards, working undercover, carried out test purchases at the shop he was running, The Convenience Store, in Brassey Parade, Hampden Park.
He was arrested after Trading Standards officers, supported by Sussex Police, searched the shop, which has since ceased trading, and discovered a haul of illegal cigarettes.
Cllr Rupert Simmons, East Sussex County Council lead member for economy, said: "This is an excellent result for Trading Standards, and the severity of the sentence should send a clear message to anyone involved in this kind of activity.
"Selling illegal tobacco products of unknown origin not only costs all of us in unpaid taxes, it also puts people's lives at risk.
"This prosecution is a boost to all the honest shopkeepers whose businesses are unfairly affected by unscrupulous traders.
"I'd like to pay tribute to the hard work of our Trading Standards officers and to Sussex Police for their unstinting support for our efforts to stop the sale of illegal tobacco in East Sussex."
Aywaz admitted charges of participating in a fraudulent business involving the sale of illegal cigarettes and possessing for supply and supplying cigarettes and tobacco which did not bear the required health warnings.
Some of the cigarettes seized were also a fire hazard as they failed to comply with the requirement to self-extinguish when left unattended.
The defendant, who pleaded guilty in a previous hearing at Hastings Magistrates' Court, was sentenced by Judge Paul Tain at Brighton Crown Court.
Anyone who knows of illegal tobacco sales in East Sussex is asked to contact Trading Standards on 0345 608 0197.