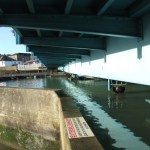 ENGINEERS are assessing the impact of damage to Newhaven Swing Bridge caused by flood water.
The tidal surge during the early hours of this morning (FRI 6) resulted in water flooding the area beneath the bridge deck which houses the main gearing, electrical systems, drive system and jacks.
The bridge remains fully open to road traffic but is at present not able to be opened to allow shipping to pass through to the North Quay.
Crews from East Sussex Fire and Rescue Service have been pumping water from the affected area of the bridge this morning and East Sussex County Council's structures team is on site assessing the damage.
Karl Taylor, East Sussex County Council assistant director for operations, said: "We're working hard to establish the impact of the flood damage to the bridge and to repair the damage caused.
"The bridge remains fully open to traffic using the A259 and we're working closely with Newhaven Port Authority to ensure the bridge reopens to shipping as soon as possible."
The tidal surge in the area was higher than expected – between 20 to 30cm – and resulted in between 50 and 100 properties in the Railway Road area being affected by flooding, as well as the closure of the railway line between Lewes and Seaford.
Updates on the status of the bridge can be found on the Newhaven Port Authority website at www.newhavenportauthority.co.uk