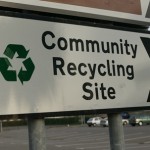 THE dumping of business waste at facilities for residents has prompted a warning from East Sussex County Council.
The authority says businesses will be fined if they are caught using any of the county's Household Waste Recycling Sites for disposing of commercial waste.
The warning comes after staff at the Crowborough site caught a number of local businesses dumping commercial waste at the site.
Crowborough is not the only site thought to be used by businesses, which would normally pay for rubbish to be taken away and staff at other Household Waste Recycling Sites have been told to be extra vigilant and keep a look out for trade waste being deposited.
Cllr Carl Maynard, East Sussex County Council's Lead Member for Transport and Environment, said: "I realise times are tough for businesses, but they do not contribute to the Household Waste Recycling Sites through their business rates, meaning every time they dump waste at one of the facilities it is at a cost of the council tax payer.
"Businesses have a duty of care to dispose of their waste properly and legally and the penalties for a breach of this can include a fine of up to £20,000 and six months imprisonment."
Businesses are required to take all reasonable steps to ensure that waste is not handled illegally and is only passed on to a registered waste carrier or a licensed commercial facility, to ensure it is dealt with properly.
The companies caught dumping trade waste at the Crowborough site were handed fines to cover the cost of disposal and administration fees. The Council is warning that any further incidents of illegal dumping could lead to prosecution.
Companies wanting more information about their responsibilities for dealing with commercial waste can visit the Environment Agency website or contact them on 08708 506506.