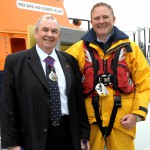 THE importance of older people eating and drinking enough has been highlighted with a week of events in East Sussex.
East Sussex County Council and its Meals in the Community provider, apetito, are backing National Nutrition and Hydration Week, running from Monday, March 17 to Sunday, March 23.
The initiative saw free bottled water and reusable water bottles handed out to all of the 500 plus older people across the county who use the Meals in the Community service.
Meanwhile, on Wednesday, March 19, all users of the service received a free hot meal, while an afternoon tea was served to users of the Charter Centre, a day service, in Bexhill.
Speaking during a visit to Newhaven RNLI Lifeboat Station, which is backing the campaign, Cllr Colin Belsey, chairman of East Sussex County Council chairman: "There is often a focus on the dangers of malnutrition, but the importance of drinking enough fluids is even more vital.
"Good hydration can improve people's wellbeing and quality of life, as well as aiding recovery from illness, and even preventing the onset of illness in the first place.
"Good hydration and nutrition not only has huge benefits for individuals, but relieves the burden on the NHS of treating problems which could be avoided simply by eating and drinking enough."
Steve Griggs, regional manager for apetito, said: "Our role in providing hot meals to people across East Sussex means we can reach people who are at greatest risk of suffering dehydration or malnutrition.
"It's vital that we get the message across that simply drinking enough fluid and eating regularly enough can improve people's lives and avoid a whole range of health problems."
People are advised to drink between six and eight cups of fluids a day, unless medical advice determines otherwise, and to aim to eat three meals and two snacks a day.
Good hydration can improve mental performance, help to stabilise blood pressure and maintain healthy blood sugar levels and reduce the risk of coronary heart disease by 46 per cent in men and 59 per cent in women.
Signs of dehydration include dark coloured or small amounts of urine, headaches, tiredness, dry mouth, lips or eyes, lack of concentration, constipation and urinary tract infections.
Symptoms of malnutrition include ill-fitting clothes or dentures, weak muscles, a constant feeling of tiredness or lethargy, low mood or motivation and an increase in illnesses or infections.
More information on how to avoid malnutrition and dehydration is available online at www.nhs.uk/conditions/malnutrition or www.nhs.uk/conditions/dehydration