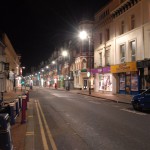 EASTBOURNE is a 'greener', more energy-efficient place after the completion of a major programme of changes to street lighting, a senior councillor has said.
East Sussex County Council has completed its scheme to replace the old-style orange and yellow street lighting lanterns on residential streets in the town with energy-saving LED lights.
Contractors from the council's contractors, Colas, have installed the last of the 5,800 new high-tech lanterns, marking the end of a nine-month programme, part of a county-wide drive to save £885,000 from the council's street lighting budget over three years.
The changes in Eastbourne, which include dimming lights in some streets, will save around £150,000 a year in electricity and achieve a reduction of 900 tonnes of carbon dioxide emissions.
Cllr Carl Maynard, the council's lead member for transport and environment, said: "This has been a major operation but we're delighted with the speed and efficiency with which it's been completed.
"The switch to LED lights in Eastbourne has played a major part in achieving the reductions we need to make in our street lighting budget, but also has significant long-term benefits.
"They have helped to make the town a more energy-efficient place while reducing electricity bills and maintenance costs, which will save the taxpayer money in the long run.
"The new lanterns also provide better quality lighting and produce less light pollution, meaning the night time skies above Eastbourne are clearer than they've been for generations."
Following the completion of the switch in Eastbourne, engineers are now turning their attention to Hastings, where a further 5,500 LED lanterns will be installed in residential streets.
LED lights will be installed elsewhere in the county as new schemes are introduced or where existing lights needs replacing.
The scheme to reduce the street lighting budget has also seen part night lighting introduced in other parts of the county.