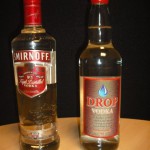 DRINKERS who buy illicit alcohol have been warned they could be playing 'Russian roulette' with their health.
The stark assessment was issued as a kebab shop operator was handed a suspended jail term after being caught selling illegal vodka at his premises in Hastings.
Ceyhun Varol was brought to justice following reports a woman had become unwell after drinking vodka bought at Erol's Kebab and Steak House, in Queens Road, on Good Friday 2013.
Trading Standards officers seized two cases of counterfeit Smirnoff vodka and three bottles of Drop Vodka, an illegal brand which has in other parts of the country been found to contain industrial alcohol used in anti-freeze.
Varol, 33, admitted possessing and selling illicit alcohol and was sentenced to four months' imprisonment, suspended for two years, in a hearing at Lewes Crown Court on Friday, March 28, 2014.
Cllr Rupert Simmons, East Sussex County Council lead member for economy, said: "This sentence sends out a clear message that sale of illegal alcohol will not be tolerated and offenders will be pursued through the courts.
"People who sell illicit alcohol of uncertain provenance are not only depriving the Treasury of the duty paid by reputable traders, they are potentially putting people's lives at risk.
"If you buy illegal alcohol you're playing Russian roulette with your health because as it is not subject to the usual stringent checks and safeguards, there's no way of knowing what it might contain.
"We would encourage anyone who sees Drop Vodka on sale, or has suspicions about other brands of alcohol being sold, to help us combat this menace by reporting their concerns."
Following the discovery of the illicit vodka, the kebab shop was stripped of its alcohol licence by Hastings Borough Council in September last year.
Varol, who gave his address as the kebab shop premises, was the sole director of a company called Courtnex Limited, based in Wilton Road, Bexhill.
In addition to his suspended jail term, he was ordered to carry out 100 hours' unpaid work, to pay £2,345 court costs and a £15 victim surcharge and to forfeit the alcohol seized.
Anyone who has concerns about the authenticity or safety of alcohol on sale is asked to contact the Citizens Advice Consumer Service on 08454 040506.