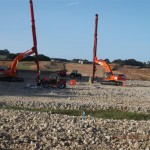 A SECTION of the Bexhill to Hastings Link Road will open early – to reduce the impact of a bridge closure.
Part of the new highway will be used as a temporary traffic diversion when work begins in June 2014 on demolishing and rebuilding the Ninfield Road bridge, in Bexhill.
Diverted traffic will be able to use the new section of road between the junction of the A259 Belle Hill and A269 London Road and the bridge.
Bob Pape, East Sussex County Council's project manager for the Link Road, said: "We have a duty to residents and businesses to minimise disruption caused by Link Road works.
"The temporary use of this partially completed section of the new road will significantly reduce the impact of the closure of the bridge on local residents and road users."
Work is currently underway on moving the existing footpath and services, including electricity and telephone lines, from Ninfield Road bridge to an adjacent temporary bridge.
The old bridge, which is too low to allow Link Road traffic to pass underneath it, will be replaced by a single-span structure built from a steel and concrete composite construction in keeping with the existing brickwork and retaining walls.
The new route will be advertised well in advance of the closure. Traffic will revert back onto London Road and the new Ninfield Road Bridge as soon as the replacement bridge is complete.
The Link Road is expected to provide a major economic boost, bringing in around £1 billion of investment, 2,000 new homes and 3,000 jobs, along with the development of 42 acres of land in north east Bexhill, including a 50,000 sq m business park.
The new road is also expected to have a significant impact on reducing traffic congestion along the A259 between the two towns, as well as improving conditions on the A2036 in eastern Bexhill, rural roads north of the town and routes through Crowhurst and Battle.