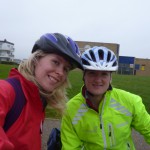 PEOPLE and businesses in East Sussex are being urged to choose cheaper, easier and healthier ways of travelling as part of a month-long initiative.
The TravelChoice Challenge, which runs throughout June, will encourage employees to cycle, walk, use public transport or car share to travel to and from work or to get around for business.
Businesses and their employees will be invited to compete in group and personal challenges as part of the initiative, launched by sustainable transport charity Sustrans.
The challenge, which is being supported by East Sussex County Council, is aimed at reducing congestion to support the local economy and encouraging more active travel for short, everyday journeys.
Cllr Carl Maynard, county council lead member for transport and environment, said: "It's in all our interests to encourage people to choose walking, cycling and public transport, which has benefits for the local economy, health and wellbeing and the environment.
"The TravelChoice Challenge is an innovative way of promoting the fact that it can often be cheaper, easier and healthier to make short, regular journeys on foot, by bike or using public transport."
The launch of the challenge saw Sustrans officers Harriet Knights and Rachel McMillan travel from Lewes to Hastings, via Newhaven, Seaford and Eastbourne, using the forms of travel the scheme will promote.
Along the way, the pair met up with businesses and organisations signed up to take part in the challenge, including Sussex Police and South East Coast Ambulance Service.
Their journey culminated in Hastings with a green networking and information event for businesses, which included a talk from Bexhill-based hairdresser Emma Hellier about running an environmentally-friendly salon.
People taking part in the challenge can record their journeys online and have the chance to win one of a number of weekly awards, including passes for bus and rail travel, theatre tickets and entry to East Sussex attractions.
Challengers will receive feedback on how many calories they've burned and how much money they've saved by choosing a different way of travelling or removing unnecessary journeys altogether.
People can register to take part, get their workplace involved and find more details of events and activities planned online at http://travelchoice.getmeactive.org.uk
More information is available by emailing harriet.knights@sustrans.org.uk
The TravelChoice Challenge is part of the Sustainable Small Business Travel Programme, delivered by Sustrans with funding from East Sussex County Council and the European Regional Development Fund.
The scheme is being supported by Co-Wheels Car Club, Southern Rail, Brighton and Hove Buses and Wheels2Work, a scheme which loans scooters and motorcycles to help people travel to their place of work or learning.
The event is also supported by local organisations and business groups including Newhaven Chamber of Commerce, business centre Basepoint Newhaven, Sussex Police and Eastbourne Borough Council.
Sustrans is charity which enables people to travel by foot, bike or public transport for more of the journeys they make every day. More information is available online at www.sustrans.org.uk
Pictured: Rachael McMillan and Harriet Knights, from Sustrans, travelled from Lewes to Hastings to promote the TravelChoice Challenge.