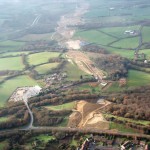 PROGRESS on the Bexhill to Hastings Link Road will be showcased at a series of construction exhibitions.
The events in Sidley, Crowhurst and St Leonards are the latest in a regular series of exhibitions aimed at keeping residents updated on how the £113 million scheme is developing.
They will include displays of current and forthcoming work on the project, which is expected to provide a major economic boost, and around £1 billion of investment, to the area.
Meanwhile, people will be able to raise any questions or concerns with members of the Link Road team.
Bob Pape, East Sussex County Council's Link Road project manager, said: "It's very important that we keep local residents and businesses informed and these events will give the construction teams a chance to show people how the work is developing.
"The Link Road has seen significant progress in recent months, with Woodsgate Park Overbridge due to open shortly and work beginning on both Crowhurst Road and Ninfield Road bridges.
"The exhibitions will also provide residents with an opportunity to put their questions or comments directly to us, so I'd encourage as many people as possible to attend."
The exhibitions will be held at Sidley Children's Centre, in Ninfield Road, on Wednesday, May 28 2014 from 4pm to 7pm, Crowhurst Village Hall, in Forewood Lane, on Thursday, May 29 2014 from 4pm to 7pm and West St Leonards Community Centre, in Bexhill Road, on Tuesday, Jun 3 2014 from 3.30pm to 6.30pm.
The Link Road is expected to result in the creation of 2,000 new homes and 3,000 new jobs, to be accompanied by the development of 42 acres of land in north east Bexhill, including a 50,000 sq m business park.
It will also have a significant impact on reducing traffic congestion on the A259 between Bexhill and Hastings, the A2036 east of Bexhill, rural roads north of Bexhill and routes through Crowhurst and Battle.
More information is available online at www.eastsussex.gov.uk/linkroad