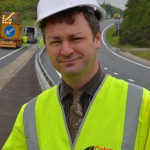 A ROAD junction in Eastbourne will be closed for resurfacing – but the work is being timed to avoid disruption to rush-hour traffic.
East Sussex County Council is resurfacing sections of Dittons Road and Rattle Road from Dittons Road roundabout to the junction of Lion Hill.
Work will also be carried out on the B2104 Hailsham Road and Lion Hill from near the junction of The Crossways to past the junction of Adur Drive.
The scheme begins on Tuesday, June 24 2014, with work being carried out between 9.30am and 4pm, and is expected to last four days.
The affected sections of road will be closed between those times but signed diversion routes will be in place.
Cllr Carl Maynard, East Sussex County Council lead member for transport and environment (pictured), said: "We know from the feedback we receive that ensuring roads are kept in a good condition is a high priority for many people.
"Inevitably work on a busy junction like this will cause some disruption but we'd ask people to bear with us and to use an alternative route while the work is carried out.
"The work has been timed to avoid the busiest periods of the day and the result will be a safer, smoother road surface which will last for years to come."
During the work, Hailsham Road will be closed to through traffic from the junction of the A295 South Road to the junction with Hankham Road, while Lion Hill will close to through traffic from the junction of Adur Drive to the Hide Hollow roundabouts.
Signed diversion routes will be in place for southbound traffic via South Road, A22, A27 and Dittons Road and for northbound traffic via Willingdon Drove, A22 Golden Jubilee Way and Dittons Road.
Local residents and businesses have been informed of the work, while more information is available by calling East Sussex Highways on 0345 6080193 or on Twitter @esccroads