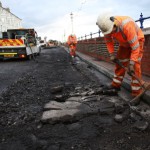 MORE than £1.4million has been promised to East Sussex County Council to help deal with the damage caused by the wettest winter on record.
The latest government grant is on top of the £2.65million the Department for Transport gave the county council earlier this year and the £50million investment made by the council to improve its road network.
"We are delighted to hear that we will be receiving further funding on top of the £2.65million received earlier this year to help deal with potholes," said Cllr Carl Maynard, the county council's lead member for transport and environment.
"We know that potholes can cause real problems to motorists and, so far this year, we have repaired more than 27,000. This money will enable us to carry on the good work we are doing to deal with the results of the wettest winter on record and prepare our roads for the winter ahead."
The money is part of a £168million Pothole Repair Fund to be shared among councils across England. Authorities receiving funding must publish monthly progress updates on the number of potholes that have been repaired.
Cllr Maynard added: "We recognise the importance of the road network in the county and, to demonstrate this, will invest more than £50milion over the next two years. 
"The additional support from the government means we can continue with our planned improvement work on roads across East Sussex, while dealing quickly with the potholes that have been caused by an unprecedented level of rainfall in the early part of the year."