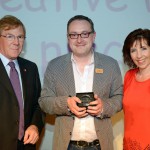 THE joy of reading was celebrated as children in East Sussex selected their favourite book.
Youngsters from 17 schools across the county were present as the winner of the East Sussex Children's Book Award was revealed in an event at the De La Warr Pavilion, in Bexhill.
Osbert The Avenger, the first of a series of darkly humorous tales by author Christopher William Hill set in the fictional town of Schwartzgarten, emerged as the winner from a shortlist of five books.
The event was the climax of a six-month series of events organised by East Sussex County Council's schools library and museum service, including author events attended by more than 1,000 pupils from 50 schools.
The event included presentations from five schools on each of the shortlisted books, incorporating poetry, music and songs, while prizes were presented by Cllr Chris Dowling, county council lead member for community services.
He said: "The award ceremony is the culmination of a whole series of events which capture the imagination of children and fuel their love of reading.
"It was fantastic that so many children were involved in reading the shortlisted books and selecting their favourite, and it was great to see at first hand the passion and enthusiasm they have for reading."
After receiving his award, the winning writer joined Ali Sparkes, author of another shortlisted book, Out Of This World, in holding a question and answer session with children.
The other books to feature in the shortlist were Midnight Pirates by Ally Kennen, Soldier Dog by Sam Angus and To Be A Cat by Matt Haig.
The event also included presentations of prizes for children who had written outstanding book reviews and creative writing pieces, and a competition to design alternative book jackets for the shortlisted books.
Meanwhile Ninfield CE Primary School received a collection of new books for its library, after winning the annual quiz.