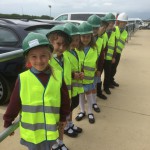 SAFETY posters designed by youngsters from a local school will be used on the site of the new Bexhill to Hastings Link Road.
Children from Crowhurst Primary School got creative after receiving a guided tour of the site, where they saw bridge-building, archaeological work and measures put in place to protect wildlife.
The posters, which highlight the importance of safety and environmental protection, will be placed around the site at key areas.
Bob Pape, East Sussex County Council's Link Road project manager, said: "We were delighted to be able to show the local youngsters around the site and explain to them the work that is taking place which will make their life better in the future.
"Our team has a tremendous depth of skill, knowledge and experience and we are very happy to be able to share that with local schools and colleges."
The school also received a visit from members of the Link Road construction team, who answered questions on the history and archaeology of the site, how the road is built and ecological works being carried out in the area.
Crowhurst Primary School head teacher Andrew Jervis said: "The children thoroughly enjoyed their visit and were buzzing all afternoon. I look forward to carrying on the link between the school and the project."
Richard Wall-Morris, project manager for contractors Hochtief-Taylor Woodrow, said: "It was great to see the children on site and for them to be so creative with their ideas for posters, which will be going up across the site to reaffirm our commitment to safety."
The Link Road team were health and safety expert Paula Hale, from Hochtief-Taylor Woodrow, environment expert Mark White, from the contractor, and Tony Mears and Graeme Clarke from the sub-contractor Oxford Archaeology.
The Link Road, which is on schedule to open in May next year, is expected to bring around £1 billion of investment, 2,000 new homes and 3,000 jobs, along with the development of 42 acres of land in north east Bexhill, including a 50,000 sq m business park.
The new road is also expected to significantly reduce traffic congestion along the A259, as well as improving conditions on the A2036 in eastern Bexhill, rural roads north of the town and routes through Crowhurst and Battle.