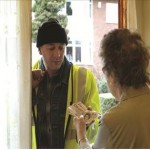 RESIDENTS are being warned to be wary of cold callers offering to carry out work on driveways and roofs.
East Sussex County Council's Trading Standards team has received a number of calls from Eastbourne and Pevensey residents concerned about cold callers offering to jet wash or seal their driveways and carry out roof repairs.
Trading Standards has offered the following advice, particularly for vulnerable residents:
• Do not deal with people who knock on your door offering to do home improvement work or want to store their equipment on your property.
• If you do receive such a call, then stop before you answer the door, put the chain on and check the person's credentials. If you do not know the caller do not let them in, as once they are in it may be very difficult to get them to leave.
• Do not agree to any work where the caller says "we are only in the area today".
• Do not be enticed into hiring the caller on the basis that they will offer you a reduction in price, if you allow them to store their machinery on your property.
• Be aware of your right to a 14 day cooling off period for any work costing more than £42.
Residents who do want work carried out on their home can find an approved trader from its Buy With Confidence scheme.
For further information contact the Buy With Confidence team on 01323 463440, email buywithconfidence@eastsussex.gov.uk or visit www.eastsussex.gov.uk/buywithconfidence
A directory, which lists some of the traders who are members of the Buy With Confidence scheme, is also now available free of charge.
For information on how to deal with cold callers and how to make your home as secure as you can from these types of traders please contact Trading Standards on 03454 040506.
For more information about the work of Trading Standards visit the county council's website at www.eastsussex.gov.uk/consumeradvice