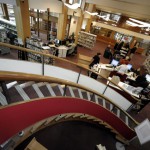 ADULTS can experience the joy of reading at a new group launching at Eastbourne Library.
The Read Aloud group, led by trained volunteers, will read and listen to short stories and poems together.
The new group, running on Tuesday afternoons, has been set up in response to the success of another group, on Thursday mornings, which is now full.
Abigail Luthmann, equal access manager for East Sussex County Council, said: "The existing group has been very popular and people who attend say they laugh a lot and feel more relaxed afterwards.
"Read Aloud groups offer people the chance to come together, make friends and enjoy the magic of books and reading.
"Everyone is welcome to drop in and there is no pressure for anyone to read aloud or attend every week."
The new group, which will consist of eight to 10 people and run for three months initially, will run at the library, in Grove Road, every Tuesday from 2.30pm to 4pm from July 15 2014.
More information is available by calling Abigail Luthmann on 01273 335383 or emailing abigail.luthmann@eastsussex.gov.uk