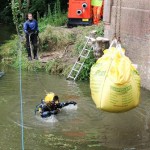 WORKERS carrying out repairs to a bridge in Pevensey were caught up in a potentially explosive drama.
Contractors were preparing to refurbish Rickney Bridge when local farmers warned them of rumours that pipe mines were buried in the area during the Second World War.
"We didn't want to take any risks, so contacted the Ministry of Defence (MOD) and 1st Line Defence – experts in clearing unexploded mines – who carried out a survey of the area," said Stephen Cook, a bridge maintenance engineer with the county council.
On advice from the MOD, the team changed the way the bank was supported from steel sheet piles to heavy duty sandbags and instructed a team of divers to assist with the lowering of these into place.
Now the area has been deemed low risk, work has resumed with water underneath the bridge being pumped away and repair work started.
"It's not every day you have to call in bomb disposal experts," Mr Cook added. "But I would like to reassure the public that there is no danger to them from unexploded mines and that all possible measures are being taken to minimise any risk."
Due to the mine investigations and the unforeseen extent of repairs required underneath the bridge, work will take up to two weeks longer than predicted, but everything is being done to minimise delays.