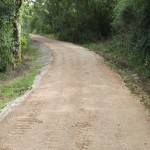 WALKERS, cyclists and riders will soon find it even easier to enjoy East Sussex thanks to a programme of improvements to footpaths and bridleways.
Over the next few weeks East Sussex County Council contractors will be working on a total of 11 footpaths to make it easier for residents and visitors to the county to get around.
Work includes;
• Surface repair work on a byway to the east of Crowborough from Palesgate Lane to Limekiln Forest
• Repair to a water-damaged path linking the A272 east Hadlow Down village with Dog Kennel Lane
• Surface repair to a footpath in Mayfield which runs between the Memorial Hall car park and Coggins Mill Lane
• Repairs to a footpath in Forest Row which runs between The Square and Station Road
• Repairs to three Seaford footpaths; between Romney Close and Perth Close, between Sutton Drove and Alfriston Road and in the town centre from Green Walk
• Repairs to a bridleway in Ripe running between the B2124 and Ripe Lane
• Surface repairs and installation of barriers to control vehicles using the byway linking Lordswell Lane and Sheep Plain in Crowborough
• Repairs to sections of byways at Glyne Gap which link areas of housing in Bulverhythe and Pebsham
• Repairs and the installation of vehicle barriers to two bridleways in the northern part of Milton Hide, Hailsham, which link Arlington Road West and Hempstead Lane.
East Sussex County Council manages 2,000 miles of footpaths, bridleways and byways, ensuring they give safe and easy access for the public. The authority is responsible for maintaining path surfaces, bridges over natural watercourses, clearing surface vegetation and signposting.
Cllr Carl Maynard, East Sussex County Council's lead member for transport and environment, said:  "Access around East Sussex for pedestrians, cyclists and riders is extremely important and we will be working with contractors to get the surface of a number of key routes repaired, while our rangers have been working hard all summer to try to ensure footpaths are kept clear.
"This latest programme of work will ensure that paths damaged by the winter weather and others which have become muddy and difficult to use are made more accessible to all and enable people to enjoy some of the most beautiful countryside the county has to offer."
To find out more about rights of way, where responsibilities lie and a map of walks visit www.eastsussex.gov.uk/rightsofway