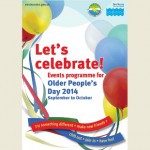 PAMPER days, a Wii Bowling tournament and a 1940s style afternoon tea are just some of ways residents can celebrate Older People's Day, 2014.
The national event is designed to celebrate the contributions and achievements of older people and in East Sussex this year's theme is 'Let's Celebrate'.
Events will run throughout September and October and a programme booklet is now available from libraries or for download.
Supported by East Sussex County Council, many of the events have been organised by the county's network of Seniors' Forums as well as community groups and local organisations such as Hope G (Hastings Older People's Ethnic Group) and Age UK.
Kate Davies, chair of the East Sussex Seniors Association, (ESSA), said: "We have worked hard to ensure there is something for everyone – you can have a go at something new, be pampered, have a laugh and enjoy tea, cakes, soups and lunches.
"You don't have to be a member of an organisation or already involved in a local group; for many events you can just turn up. It's a great opportunity to get involved and make some new friends."
There are a variety of events on offer across the county, including a tea dance, a soup festival, ping pong and a Wii Bowling tournament, a tour of The Keep – the East Sussex archive centre and pamper days with reflexology and Indian head massage. Many of the events are free of charge.
For the first time, one event will combine Older Peoples' Day and Black History Month. 'Untold Stories', organised by The Black and Minority Ethnic Forum, is a cross-generational event which will share untold stories and positive contributions of generations of East Sussex BME residents.
 "We are delighted to, once again, be supporting events to mark Older People's Day," said Cllr Bill Bentley, East Sussex County Council's cabinet member for adult social care. "This annual celebration gets bigger and better every year, with eight weeks of events this year to mark one very important day.
"There are so many groups and activities out there for older people in East Sussex, and this national event gives those organisations a chance to showcase what's on offer. With such a wide range of events, there is certainly going to be something for everyone to enjoy."
A programme of events is available to pick up from local libraries or download from www.eastsussex.gov.uk/olderpeoplesday
The booklet includes details of all events and contact details for people to book places, where necessary. There are also details of how to get to the venue and what help is available with transport.
To find out more about Older People's Day visit www.olderpeoplesday.co.uk
To find out more about seniors forums across East Sussex go to www.essaforums.org.uk or you can contact June Pratley on 01273 335467 or email: june.pratley@eastsussex.gov.uk
If you have problems getting a copy of the events programme booklet call 01273 481565.
UK Older People's Day is on October 1 to coincide with the UN International Day of Older Persons.
All details of events in the Older People's Day events programme booklet were correct at the time of going to press. To check details of individual events, contact the organisers as listed in the programme.
Some events need to be booked in advance and some may include a fee.