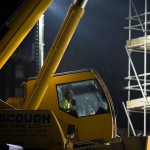 WORK on the new Bexhill to Hastings Link Road remains on course with a number of significant milestones reached during the summer.
 
The steel bridge beams have all now been placed on the new railway bridge at the Hastings end of the link road, and work to complete the bridge deck will continue through August and September.
The Crowhurst Road Underbridge walls and roof slab have been concreted, while all of the steel bridge beams, the pre-cast concrete bridge beams and the pre-cast culvert sections will be on site by the end of this week.
Bob Pape, Link Road project manager for East Sussex County Council, said: "We are delighted with the contractors' progress this summer, and the delivery of these beams and the culvert sections means there is an opportunity for further significant progress in the month ahead.
 
"The opening of Woodsgate Park Overbridge to traffic, after its earlier opening to pedestrians, also represents a major milestone for the project."
 
The existing Woodsgate bridge, which spanned the old South Eastern and Chatham Railway line between Sidley and Bexhill West stations, was demolished because it was too low and narrow underneath to allow  traffic to flow along the new Link Road.
 
Ninfield Road Bridge will be closed in a few weeks time to allow demolition to take place. Traffic will be able to use the new road between the bridge and the junction with the A259 Belle Hill and A269 London Road while it is demolished and replaced with a new crossing.
The bridge is being demolished and rebuilt because it is too low to allow traffic on the new Link Road to pass underneath it. The new structure will be a single span, simply supported bridge, made from a steel and concrete composite construction but clad with brickwork to match the existing side walls.
 
The Link Road, which Rother District Council's planning committee last month ruled would be called Combe Valley Way, will bring major economic benefits to Bexhill and Hastings.
It is expected to bring 2,000 new homes, 3,000 new jobs and more than £1 billion of economic benefits to the area and will include the development of 42 acres of land in North East Bexhill including a 50,000 sq m business park.
 
It will also relieve the high level of traffic congestion on the A259 between the two towns.