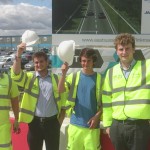 STUDENTS from college and university have been given a chance to gain practical experience away from their courses on the Bexhill to Hastings Link Road.
They have been working on a range of civil engineering, planning and environmental activities on the scheme – some for months, and one on a placement that has lasted a year.
Tom Jones, 22, from Pett, a civil and coastal engineering student at Plymouth University, said: "This has been a great opportunity to see things in the real world which is completely different from university.
"I have been working here for a year and it's been an absolutely brilliant opportunity to gain practical experience to back up the theory."
Alix Sparks, 17, from Sovereign Harbour, in Eastbourne, is an apprentice with East Sussex County Council's highways department and is studying for a BTEC in civil engineering at Sussex Downs College.
He said: "I've been working with some of the engineers on the site and the insight it has given me is absolutely fantastic.
"It's made me even more determined to make sure my college studies are successful so I can have a career in engineering."
Karl Taylor, East Sussex County Council assistant director for highways, said: "We wanted to make sure that as well as building the road itself we were giving something back to the local communities.
"As well as helping out with volunteering with a range of projects we also wanted to use the masses of talent we have here to help give local youngsters an insight into possible careers across the range of disciplines that are involved in road building."
Bob Pape, the county council's Link Road project director, said: "We were delighted to be able to help shape the careers of these young people and that we have had such positive feedback from them."
The Link Road, to be called Combe Valley Way, will bring major economic benefits to Bexhill and Hastings including 2,000 new homes, 3,000 new jobs and more than £1 billion of economic benefits.
The road, due to open in May next year, will see the development of 42 acres of land in north east Bexhill including a 50,000 square metre business park, and will also relieve the high level of traffic congestion on the A259 between the two towns.