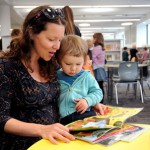 RESIDENTS were given their first look inside the multi-million pound library complex in Seaford
The project, the first of its kind embarked upon by East Sussex County Council, began in October 2012 when building work started at the Sutton Park Road site. By February, the final bricks were being laid ready for fixtures and fittings to be added to the building.
Cllr Chris Dowling, lead member for community services, said: "This is an exciting time for East Sussex County Council and the people of Seaford, who finally have a new, state-of-the-art facility that will be enjoyed for generations to come.
"For us, the new development represents the level of investment we have made into our library service and illustrates how important we consider these facilities to be to us and the communities they serve."
As well as the library, the scheme includes a new service which will offer more direct access to resources within the community for older people with dementia or other mental health problems who have been assessed as needing support to help them live independently.
Councillor Bill Bentley, the council's lead member for adult social care, said: "It's great to see the years of hard work and planning come to fruition, to see the residents of Seaford able to enjoy the facility, and to see older people who need our support get help in such a wonderful facility.
"This really is a first for East Sussex. It is the first time we have worked on a scheme which has combined services of these types and with the addition of supported living accommodation on the site, we have created a great facility which will benefit all members of our community."
The supported living flats will give adults with learning disabilities the opportunity to live independently and will be managed by Saxon Weald Homes.
Ends.
The café at the facility will be run by the owners of Seaford café and tapas restaurant, Front Room, after they were selected following a tendering process. See https://news.eastsussex.gov.uk/2014/08/08/local-business-wins-contract-to-run-new-cafe-at-seaford-facility/ for more information.
The Seaford library development represents part of an investment into library services by East Sussex County Council. The authority has also invested in new facilities in Hastings and Newhaven.
Assistance in using the new self service facilities and tours of the building are available from staff and volunteers. Images and comments about the new building are also available on Facebook and Twitter.