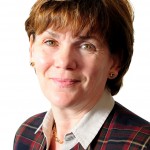 THE board behind a major improvement scheme in Uckfield has agreed to review the second stage of the scheme before it is introduced.
The Uckfield Town Centre Highway Improvement Scheme board has moved to reassure residents and local businesses after concerns about the impact of the scheme were raised at a meeting at Uckfield Civic Centre last week (Friday, October 3 2014).
The board said it would review the second stage of the scheme, and the traffic management measures which will be put in place alongside it, on completion of the first stage.
The first stage of the scheme, which will see pavement widening, new street lights and traffic lights, is due to finish next month, with the second stage scheduled to begin in the spring.
Cllr Claire Dowling (pictured) represents Uckfield on East Sussex County Council and sits on the project board, made up of representatives of the county council, Uckfield Town Council and Wealden District Council.
She said: "It was always the board's intention to look again at the second phase of the project once the first stage was complete, and the concerns raised about traffic and the impact on trade reinforce how important it is we do that.
"We totally understand people's concern and the various options will be discussed with local businesses before deciding on what traffic management measures are needed ahead of stage two."
The first stage of the scheme affects the southern end of High Street, while the second stage will affect the area of High Street between Bell Lane and Church Street.
Advertisements on local media will be launched later this week aimed at encouraging people to continue to use the town centre.
Cllr Ian Smith, mayor of Uckfield, said: "I am worried that there is a perception that Uckfield is not open for business. This is most definitely not the case.
"All the car parking spaces are available and all the shops are open. There is easy access at most times with some traffic disruption at the end of the working day only."
More information about the scheme is available at www.eastsussex.gov.uk/uckfieldtransport
People who have comments or enquiries are asked to contact the East Sussex Highways Contact Centre by calling 0345 6080193 or via Twitter @esccroads