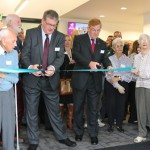 A UNIQUE development which brings county council services together under one roof has officially opened in Seaford.
While the library on the Sutton Park Road site has been open to the public since August, local dignitaries marked the official opening of the new complex on Monday, October 6.
The £6million development includes a new library, café and day service for older people, as well as supported living accommodation which will be managed by Saxon Weald Homes.
"This has been an amazing opportunity for East Sussex County Council to think about how we can use our buildings to offer more than one service," said Cllr Bill Bentley, the county council's lead member for adult social care who cut the ribbon at Warwick House.
"This is a great example of our 'one council' approach which helps to improve services and save East Sussex taxpayers' money."
Joining him at the ribbon cutting was Cllr Chris Dowling, lead member for community services. "The people of Seaford now have a great new facility which we hope will become a thriving community hub," he said.
"The library has already proved popular with the people of Seaford and the day service and supported living accommodation will now offer the support needed in the local community."
Others attending included Becky Shaw, East Sussex County Council's Chief Executive, Chairman Cllr Colin Belsey, council leader Cllr Keith Glazier and Seaford county councillors.
Representatives from the local community also attended the event including Seaford Mayor Mark Brown and members of staff involved in the development and the services offered.