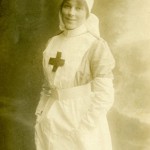 THE role played by volunteer nurses during the First World War is brought to life in the latest addition to a website marking the conflict in East Sussex.
East Sussex County Council's First World War website is offering people the chance to view moving messages and drawings left in an autograph book by wounded soldiers to a nurse at Filsham Park Hospital, St Leonards.
The book was provided by Dudley Ellis, from St Leonards, whose grandmother, Celia McLaren, from Alciston, was a Voluntary Aid Detachment (VAD) nurse at the hospital, based at the Convent of Our Lady, on Filsham Road, in 1916-17.
Mr Ellis worked with Zoe Edwards, local studies librarian at Hastings Library, who helped with the research to find out more about the autograph book and the old hospital site.
The book includes poignant poems, rhymes of gratitude, sketches of local scenes and military badges, soldiers' names, ranks and details of where they were wounded.
The website also has evocative photographs showing nurses and soldiers at the hospital, provided by the sister in charge of the Canonesses of St. Augustine, still based in Filsham Road.
One of the poems included in the book by a soldier from the 10th Dublin Fusiliers, reads: "Imagination cannot grasp or words to thee convey, the gratitude that's in my heart increasing day by day.
"A stranger cast into your life with not a thing but pain, you laboured uncomplainingly and made me whole again."
Cllr Keith Glazier, county council leader, said: "The drawings, sketches and poems left by wounded soldiers show a remarkable level of creativity and detail.
"They really convey the deep sense of gratitude felt by the soldiers towards the nurses who cared for them during their time in East Sussex."
At the peak of its use as a hospital, the convent accommodated 268 servicemen in 1915, when the operating theatre was in near constant use.
The hospital, run by the British Red Cross, eventually outgrew the building and moved to larger premises in nearby Dane Road.
The First World War website is regularly updated with stories, photographs and ephemera chronicling how the war touched the lives of people in East Sussex, along with details of events being held to mark the centenary of the conflict.
People are also urged to submit their own First World War stories, anecdotes and images and also have the chance to research details about war memorials in East Sussex and submit their own findings via the website.
The website can be found at www.eastsussexww1.org.uk