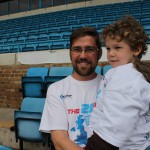 AN epic trek of top-flight football grounds by a member of the Bexhill to Hastings Link Road team has generated a five-figure sum for charity.
Stephen Lapthorn raised more than £26,000 for research into juvenile diabetes by completing a 500-mile walk between all 20 Premier League stadia.
Mr Lapthorn, a quality manager for Link Road contractor HOCHTIEF (UK) Construction, will donate the cash to the Juvenile Diabetes Research Foundation (JDRF).
He was inspired to raise the money after his son, Christopher, was diagnosed with type one diabetes when he was just two years-old. Now five, the youngster needs daily injections of insulin to regulate the condition.
Mr Lapthorn said: "I've been overwhelmed by the support and generosity of everyone, particularly my dad, David, who drove the support car all the way, and my friends and family who did various parts of the walk with me.
"It was tough – very tough at times – but I would go through that pain every day for the rest of my life if it meant a cure was found for my son Chrissy and all those who suffer from type 1 diabetes.
"The money raised will go towards much-needed research, so thank you to all who donated –  I'm very grateful."
Mr Lapthorn started his trek at Newcastle United's St James' Park, walking to the remaining 19 Premier League stadia before finishing at Priestfield Stadium, base of his hometown club, Gillingham.
Bob Pape, East Sussex County Council's Link Road project manager, said: "This is a fantastic achievement and we are delighted Stephen has raised so much money."
Type 1 diabetes is a chronic condition that stays with people for their entire lives. Sufferers cannot naturally regulate blood glucose levels and rely on multiple injections or pump infusions every day.
The condition affects around 400,000 people in the UK, 29,000 of whom are children. The JDRF aims to improve lives until a cure is found and funds research to find that cure.
More information is available at www.jdrf.org.uk