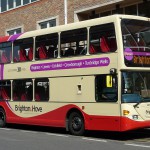 THE future of an evening bus service looks secure after the operator pledged to run the route commercially.
Evening buses on a section of the 28 and 29 routes between Brighton and Tunbridge Wells are currently under the spotlight as part of a of review of routes subsidised by East Sussex County Council.
Now, Brighton & Hove Bus & Coach Company has said it is willing to run the route as a commercial operation to preserve the service and help the council find vital savings.
The move, which follows months of positive discussions between the council and the operator, would see people in Lewes, Ringmer, Uckfield, Crowborough and surrounding rural areas continue to benefit from the evening service.
Mike Best, Brighton & Hove's commercial director, said: "This positive approach means that with a small number of timetable adjustments to the spacing of evening services on the 28 and 29, we can preserve a good service not only on Mondays to Saturdays but also on Sundays.
"We are therefore in a position to confirm that from March 2015, we will continue to run evening services currently funded by the county council on a commercial basis."
East Sussex County Council says the proposed changes to the supported bus network that were consulted upon earlier this year could help it save £1.79 million, while leaving 91 per cent of all current passengers on the East Sussex bus network unaffected.
The authority is currently reviewing responses to the consultation, which closed in September. The findings from the consultation and other information will be taken into account when cabinet is asked to consider recommendations for the reformulated supported bus network at its next meeting on Tuesday, December 16 2014.
The review had included 28 and 29 services towards Tunbridge Wells after 7.45pm from Uckfield and after 8.55pm from Lewes, and Lewes-bound services after 8.40pm from Uckfield and after 9pm from Tunbridge Wells.
Rupert Clubb, county council director of communities, economy and transport, said: "We very much welcome the intervention of Brighton & Hove Buses and their commitment to continue this service as a commercial operation.
"Cabinet has difficult choices to make due to reductions in the funding the council receives from the Government, but no decision has been made yet and no decision will be made without reviewing all the evidence and the responses from the consultation."
If cabinet approves the recommendations, the changes to services would be made from March 2015.