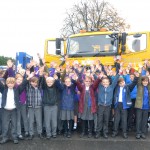 YOUNGSTERS from across East Sussex will sing the praises of the county's fleet of gritters in a series of Christmas concerts.
Gritter! is the title of this year's Big Christmas Sing, organised by East Sussex Music Service, which will feature around 2,000 children singing in 12 performances at four venues, supported by young musicians from county ensembles.
The musical, featuring material specially written by composer Dr Tony Biggin alongside traditional Christmas songs, tells of how the children's attempt to reach the theatre to perform is hampered by bad weather – until the gritters come to the rescue.
Lucy Morgan Jones, acting head of the East Sussex music service, said: "The Big Sing is one of the highlights of our musical calendar, involving so many children and huge amounts of imagination, creativity and fun.
"This year we have blended traditional Christmas themes with a topical twist.   Children have been telling us how much they have been enjoying the songs from Gritter! and the concerts promise to be heart-warming and festive occasions."
The centrepiece of the show is the title tune, penned by Dr Biggin, who was inspired by an encounter at one of last year's concerts with a theatre usher – who also worked part time as a gritter driver.
The tune references the quirky names given to the gritters by East Sussex schoolchildren, which include Girl Plougher, Usain Salt and Gritzilla.
Dr Biggin said: "I thought it would be a good idea to celebrate the skill, dedication and commitment of the gritting team, and when I discovered the lorries had been named so imaginatively and humorously by children, this musical was born."
The concerts in Eastbourne, Hastings, Bexhill and Tunbridge Wells will feature children from dozens of schools, among them nine-year-old Bailey Tibble, a year five pupil at Willingdon Primary School.
He said: "I wasn't really interested in the nativity or musicals before this but this is different and I love trucks so I wanted to sing.
"I like the gritter names and the songs are really fun – especially the song Gritter. It will be my first time on stage and my whole family are coming so I am nervous and really excited."
Tickets are priced £6 for adults and £3 for concessions, available from the venues. Concerts will be held on the following dates:
Monday, December 1 – White Rock Theatre, Hastings
Tuesday, December 2 – The Assembly Hall Theatre, Tunbridge Wells
Wednesday, December 3 – De La Warr pavilion, Behxill.
Monday, December 8 – The Winter Garden, Eastbourne
Wednesday, December 10 – The Winter Garden, Eastbourne
Thursday, December 11 – The Winter Garden, Eastbourne
East Sussex Music Service provides musical tuition and performing opportunities for all ages across East Sussex.  More information is available by calling 01273 336770 or online at www.eastsussex.gov.uk/music