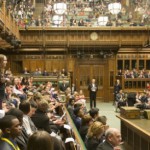 YOUTH representatives from East Sussex have been making their mark on national debate – by speaking at the mother of parliaments.
The county's three representatives on the UK Youth Parliament (UKYP) spoke in the body's annual House of Commons debate at Westminster, aimed at picking key issues for members to campaign on in the year ahead.
Eastbourne's Member of the Youth Parliament (MYP), Paddy Stewart, was picked to speak on a motion arguing for resits in maths and English to be reinstated, while Lewes and Wealden member Harry Elphick argued for a living wage for all workers.
The five topics for the debate, also attended by Hastings, Bexhill and Rother MYP Charlotte Thomas, were selected by a ballot of young people across the country – including a record turnout of almost 7,000 in East Sussex – as part of the Make Your Mark campaign, supported by the East Sussex Youth Cabinet.
Paddy, a 14-year-old student at Bishop Bell School, in Eastbourne, said: "Talking in the House of Commons was one of the greatest experiences of my life, and was an unbelievable opportunity to be able to stand up and speak for young people."
Sixteen-year-old Harry, who studies at Uckfield Community Technical College, said: "It was a really nerve-wracking experience but it felt amazing when it was over and I was sad to leave the House of Commons."
Charlotte, 15, from Helenswood School, in St Leonards, said: "Although I didn't get to speak, it was still an amazing experience and I didn't mind because I still felt like I'd contributed."
The debate, screened live on BBC Parliament and attended by 258 MYPs, was opened by William Hague, leader of the House of Commons, and chaired by Commons speaker John Bercow.
Delegates picked as the their two issues to campaign on the campaign for a living wage of £7.65 per hour and a call for improved mental health services.
Cllr Nick Bennett, East Sussex County Council lead member for learning and school effectiveness, said: "The youth parliament is an excellent way for young people to influence debate on issues which affect them and to witness democracy in action.
"Speaking in the House of Commons, where so many great orators have debated over the years, is an experience they will never forget."