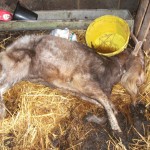 A PENSIONER has been handed a suspended jail term after evidence emerged of shocking neglect of animals in her care.
Clare Cotton was convicted of six offences under animal welfare legislation following an investigation by East Sussex Trading Standards.
A goat found on the 79-year-old's smallholding in Limes Lane, Buxted, was in such a poor state of health due to lack of veterinary care that it had to be put down.
Investigators also found an emaciated bull and a pig left without fresh water and dry bedding and suffering from an untreated case of the skin condition mange.
Cotton, who had been due to stand trial before offering a last minute guilty plea, received a four-month prison sentence, suspended for six months, and was banned for life from keeping goats, cows, sheep and pigs.
Cllr Rupert Simmons, East Sussex County Council lead member for economy, said: "Anyone who keeps animals has a legal and moral duty to properly look after them and this was clearly not happening in this case.
"Our officers were shocked by the terrible state in which these creatures were found and I'm sure the general public will be equally appalled.
"This individual was offered advice and guidance on how to improve conditions for these animals on numerous occasions but failed to take action, leaving us with no choice but to prosecute.
"I'd like to pay tribute to Trading Standards officers for their work in what were at times difficult and challenging circumstances."
In addition to her suspended prison sentence, Brighton magistrates also ordered Cotton to pay £150 in court costs and an £80 victim surcharge in a hearing on Tuesday, February 3 2015.
The lifetime ban on keeping goats and sheep was suspended for three months to allow the defendant time to arrange for rehoming of the remaining six goats and eight sheep she still owns, which were found to be in an acceptable condition.
In a happier footnote to the story, the mange-ridden pig and under-nourished bull which were rescued from the smallholding have now been returned to good health and are living contentedly at an animal sanctuary.