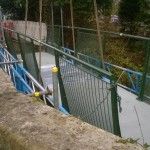 A UNIQUE solution has been found to bridging the gap over an East Sussex river.
The new lightweight footbridge, which crosses the River Brede in Sedlescombe, is the first of its kind to be designed and manufactured in the UK.
The eight metre-long bridge, made from Fibre Reinforced Polymer (FRP), is a fraction of the weight of the 50-year-old timber footbridge it replaced, which had reached the end of its lifespan.
The new structure, which runs alongside the B2244 south of the village, has an expected minimum 60-year lifespan and will require minimal maintenance.
The bridge was manufactured at a specialist factory in Poole, Dorset, and transported 130 miles on the back of a lorry, before being hoisted and secured in place in less than an hour.
Cllr Carl Maynard, East Sussex County Council lead member for transport and environment, said: "The old wooden footbridge had deteriorated over the years was requiring regular work to replace rotting timbers.
"The materials used in the new structure mean it will need far less maintenance work, saving time and money in the long run.
"The bridge had the added benefit of being built off-site, allowing us to minimise the disruption to pedestrians which would have been caused by lengthy construction work."
The old bridge had been in place since 1965, with the last major overhaul coming in 1979, when most of its timbers were replaced.
The new bridge, which came ready-fitted with powder-coated steel railings, weighs in at just one tonne, a quarter of the weight of its four-tonne predecessor.
The structure is one of only a handful of FRP bridges in the UK and the first in Sussex. Previous bridges were manufactured outside the UK.
The scheme was arranged by the county council's structures team, with the bridge designed by Surrey-based firm CRL Composites, made by Norco GRP Ltd in Dorset and installed by Uckfield-based civil engineers Thornes. The installation was overseen by council contractor Kier.