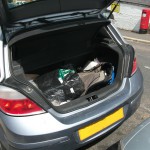 A TRADER from Hastings has been hit with a £1,000 fine after being caught as part of an operation to target the illegal tobacco trade in the town.
Siavash Rostamy was prosecuted after officers from East Sussex Trading Standards targeted his shop, Ore Mini Market, in one of a series of raids which netted £5,000 of illegal goods.
Officers found 205 packs of tobacco and 40 packs of cigarettes at the store, in Old London Road, and in a nearby parked car.
The 37-year-old defendant, of Pevensey Road, St Leonards, admitted five charges relating to the possession of illegal tobacco in a hearing at Eastbourne Magistrates' Court on February 20 2015.
He was fined £200 for each of the offences and ordered to pay £1,068 in court costs and a £20 victim surcharge, and to forfeit the illicit tobacco seized.
Cllr Rupert Simmons, East Sussex County Council lead member for economy, said: "Offering for sale cheap tobacco encourages more people to smoke.
"The trade in illegal tobacco puts people's health at risk, as well as costing the taxpayer in lost tax revenue.
"Targeting and disrupting this illegal trade is a priority for our Trading Standards and Public Health teams and this prosecution is another excellent result."
Cynthia Lyons, acting East Sussex Director of Public Health said: "The availability of cheap tobacco undermines efforts to encourage adults to quit smoking, and national research suggests that illegal tobacco products are also more likely to be bought by children.
"It is not a victimless crime and stamping out this trade makes an important contribution to protecting the health of children and young people and reducing the significant health harms caused by tobacco smoke."
The tobacco products found at Rostamy's store failed to display the required Government health warnings, while some had been specifically made for the illegal tobacco market.
The store was targeted as part of a series of inspections last month at shops across Hastings and St Leonards, which netted almost 8,000 cigarettes and more than five kilos of rolling tobacco.
Trading Standards is continuing its investigation into other premises targeted during the operation, including further examination of some of the tobacco products seized.