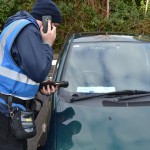 MOTORISTS illegally using Blue Badges to park in disabled bays and avoid parking charges were the target for enforcement teams in a day of action.
East Sussex County Council teamed up with Sussex Police and NSL, which manages parking on behalf of the county council, in a crackdown on the misuse of Blue Badges across Lewes district, Hastings and Eastbourne.
The action day was part of Operation Bluebird, a joint initiative between the county council, police and Brighton and Hove City Council, which includes the recruitment of two dedicated officers to take action on Blue Badge fraud.
Hundreds of checks were made on Blue Badges on Wednesday, February 25, and 10 were seized from drivers who were not entitled to use them.
"We are extremely pleased with the results from the action day, which show the positive effects of agencies working in partnership," said Councillor Carl Maynard, the county council's lead member for transport and environment. "We believe this is only the tip of the iceberg, as we estimate there are many more Blue Badges being misused across East Sussex.
"We hope this day of action has sent out a clear message to anyone using a Blue Badge they are not entitled to use that we will take action and protect the rights of those genuinely needing to use disabled parking."
Cllr Maynard added: "During the course of the day, many genuine badge holders whose badges were checked welcomed the crackdown."
Mark Hoskin, NSL's Local Government Director, added:  "We are very pleased with the results achieved yesterday, which were brought about through working in partnership with Sussex Police and East Sussex County Council.
"Blue Badges are meant only for the named motorist with a disability. They are issued to make their lives easier. Blue Badge misuse makes it harder for them, and we will continue to work to help stamp it out."
As well as checks carried out by officers, members of the public were encouraged to report the misuse of blue badges and the team received 55 calls.
The Audit Commission estimates that 20 per cent of Blue Badges are misused. For each of these, there is a cost to the taxpayer of up to £5,000 due to the need to install more disabled bays and lost revenue from parking charges.
Operation Bluebird will continue over the next two years and members of the public are being encouraged to report the misuse of Blue Badges by calling 01323 464244  or emailing badgefraud@eastsussex.gov.uk
There are 24,000 Blue Badges in circulation in East Sussex.
The government has given £183,000 to Operation Bluebird, a joint project involving East Sussex County Council, Brighton and Hove City Council, Sussex Police and NSL.
Area breakdown:
– In Eastbourne 192 Blue Badges were checked and four were seized. The details of one driver will be passed to the Department of Work and Pensions after they were found to have no mobility issues
– In Hastings 198 Blue Badges were checked with two being seized. A total of 14 drivers were given advice on the misuse of the badge.
– In the Lewes district 124 Blue Badges were checked with four being seized. One driver was reported to the police for dangerous driving after driving off while the enforcement officer attached a penalty charge notice to their car.