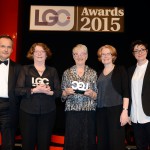 A COUNCIL has landed two prestigious awards for a programme which introduced new ways of working with children and families.
East Sussex County Council won in two categories at the Local Government Chronicle Awards, claiming the business transformation and children's services awards for its THRIVE programme.
The three-year scheme was set up in 2012 to ensure East Sussex has a financially sustainable safeguarding system which acts in a proportionate, timely and effective way.
As a result of the multi-agency approach, which reduces the need for social services intervention by ensuring children and families get the help they need at an early stage, children's social care referrals have been cut by half.
Cllr Keith Glazier, council leader, said: "Before we introduced THRIVE, the number of referrals for children's social care was soaring to a level which couldn't continue.
"The programme has involved reform to the whole safeguarding system and investment in enabling staff to be more skilled and confident, with more of a focus on relationships between staff and the families they help.
"THRIVE is a key part of our efforts to improve the lives of our residents and represents a cultural change which has allowed us to focus children's social care resources on those who really need it, and to make sure the service is sustainable for the long-term future."
Under the THRIVE programme, the council introduced an improved system of screening to allow more appropriate and proportionate help to be offered to families which didn't need the involvement of a social worker.
Meanwhile, staff training and closer partnership working between the council and other agencies including the police, NHS and schools, has seen a more co-ordinated approach across the county.
Cllr Sylvia Tidy, county council lead member for children and families, said: "We are delighted to have received national recognition for the hard work put in not just by our staff and those of our partners, but the efforts of families themselves to change their lives for the better."
Judges praised the 'ambitious' scheme and the 'effective leadership' behind it and said the focus on delivering positive outcomes for children and young people had 'successfully addressed one of the most significant challenges of contemporary local government'.
The awards were presented at a ceremony hosted by television personality Sue Perkins at Grosvenor House, in London, on Wednesday, March 11.
Details of the awards are available online at https://awards.lgcplus.com/