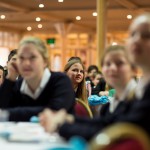 YOUNG people from across East Sussex came together to discuss the issues which matter to them.
The annual Inspire! Youth Conference allowed youngsters aged 11 to 19 to share information about campaigns and activities they and their peers are involved in locally and nationally.
The conference, held at the Winter Gardens, in Eastbourne, was run by East Sussex County Council and organised by young people from youth forums in the county.
The theme of this year's event was 'access', with topics discussed including crime, the importance of marriage and whether footballers should paid more than doctors and nurses.
The event, attended by around 130 young people from local schools and youth groups, was hosted by East Sussex Youth Cabinet members, Maria Goptareva, from Bexhill, and Paddy Stewart, from Eastbourne.
Maria, 16, said: "It was absolutely incredible – I really enjoyed the big debate session and I loved being up on the stage announcing all the events throughout the day. I found it inspiring to see young people's commitment to the issues in the debate and to participate in all of the activities throughout the conference.
"They were very enthusiastic as an audience and it felt great to see them contribute to the activities during the day. I hope everyone really enjoyed it, as I certainly did."
Paddy, aged 15, said: "The day was really amazing and opened my eyes to all the opportunities that are open to young people."
The conference included displays, inspirational speakers, art and participatory workshops, including those run by young people from the youth cabinet, which allowed young people to share their views with each other and adult decision-makers.
The issues and opinions raised will be used by the youth cabinet in planning its campaigns for the future.
Cllr Nick Bennett, East Sussex County Council lead member for learning and school effectiveness, said: "Every year, the Inspire! Youth Conference brings young people from across the county together to share their views.
"It's great to see young people taking the lead in organising the event and using it to discuss the issues which matter to them."
More information, including feedback on views and ideas discussed during the day, is available by calling the equality and participation team on 01273 335250 or emailing participation.team@eastsussex.gov.uk