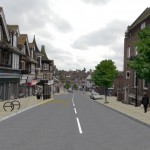 THE board behind improvements to Uckfield town centre will continue to listen to views of residents and businesses as the review of the next stage progresses.
The pledge follows a town poll in which the majority of those who took part said they did not support the removal of current on-street parking provision in the High Street.
"We are working hard to do what is best for the town centre, to ensure it remains a flourishing and vibrant hub," said Nigel Hannam, project board member and director of environment and community services at Wealden District Council. "It is encouraging that people took time to be involved in the poll.
"We now have to complete the final designs ensuring a balance between parking in the High Street, accommodating pedestrians and easing traffic congestion, which would only get considerably worse with new housing developments planned.
"We also need to make Uckfield town centre a more attractive place for residents, shoppers and traders."
The next stage of the improvement work involves the section of the High Street between Bell Lane and Church Street.
East Sussex County Council, Wealden District Council and Uckfield Town Council  are working together to ensure that it is 'business as usual' in Uckfield during the improvements and that work is completed as quickly as possible and causes minimum disruption.
The review, which is due to be completed in May, will look at;
• Traffic management during the improvement work. Options will be developed and shared with the Chamber and traders for their input before starting the work, which will be phased to ensure it is not going on in the lead up to Christmas and over the festive period, or conflicts with other local events.
• How many High Street parking bays should remain and their use
• The installation of new 'smart' traffic lights to monitor and control traffic flow
• The installation of safer pedestrian crossing points in the High Street
• The widening of the footpaths and new paving which will remove potential hazards for the disabled and others
• Improving the street scene with new benches, waste bins and cycle stands
• Enhancement of the environment, including tree planting to mitigate High Street flooding
• Ensuring the car parks in Luxford Field, and Regency Close South and North are better managed and will remain free to use
• The installation of new street lights generating less light pollution and resulting in lower energy bills
•  The introduction of real-time passenger information boards at bus stops
• A 20mph speed limit for the High Street with an extension into Church Street, something requested by members of the public
More information and regular updates are available online at www.uckfieldtc.gov.uk or at www.eastsussex.gov.uk/uckfieldtransport