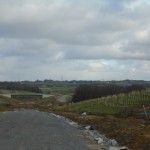 MORE than 14,000 trees and shrubs have been planted as part of a major environmental scheme associated with the Bexhill to Hastings Link Road.
The programme will eventually see 108,000 trees and shrubs planted,  as part of East Sussex County Council's pledge to plant two trees for every one removed for work on the new road.
The environmental work being carried out will create 47 acres of woodland and see extensive hedgerow planting to provide cover while improving views and reducing traffic noise.
Meanwhile, favourable weather conditions have enabled progress on the construction of several bridges as well as significant work at both ends of the new highway, to be named Combe Valley Way.
Bob Pape, the county council's Link Road project manager, said: "The early spring-like weather has given us an opportunity to move forward and I am pleased with the progress that has been made this month.
"The tree and shrub planting programme is a vital part of our commitment to mitigating the environmental impact of the scheme."
Other works completed during March 2015 include:
Earthworks – work has resumed on completing the remaining earthworks along the line of the new road.
Acton's Farm Overbridge – the new bridge deck has been constructed and work is being carried out to tie in the bridge to the existing lane at both ends.
London Road – the realigned carriageway has been surfaced. Kerb lines, crossing points, traffic signs and street lighting installed and tested.
Ninfield Road Bridge – the beams have been installed and work to construct the new deck is underway.
Queensway – work has begun to create a new junction at the Hastings end of the link road. Temporary three-way traffic signals are in operation whilst the work is carried out.
Hillcroft Farm Cutting – the main digging operation has been completed and highway drainage installed.
Decoy Underbridge – the beams have been installed and work to construct the new deck and wing walls is underway
The Link Road is expected to bring 2,000 new homes, 3,000 jobs and more than £1 billion of economic benefits, while relieving traffic congestion on the A259 between Bexhill and Hastings and on other local roads.