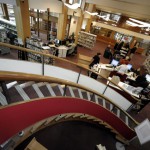 LIBRARIES in East Sussex are gearing up to take part in an initiative aimed at helping people experience the joy of reading.
East Sussex County Council's libraries and information service is backing World Book Night, on Thursday, April 23 2015, which targets the 35 per cent of the population who don't read for pleasure.
The event will see 19 volunteers across the county collect from their local library special World Book Night editions of 20 specially selected World Book Night titles and distribute them in the community.
The books will be given to groups including the elderly, young people studying to achieve basic qualifications in English, construction workers and hospital patients and staff.
All of the books are also available to people to loan from East Sussex libraries, including some titles which are available as eBooks and audiobooks.
Valerie Wright, East Sussex County Council library operations team manager, said: "Apart from being an immensely pleasurable experience, reading is recognised as having benefits for health and wellbeing.
"The volunteers who have so generously given their time will be joining people across the country in sharing their love of reading with those who may not experience it at present.
"World Book Night is also a great chance for people across the county to reconnect with the joy of reading by enjoying one or more of the specially-selected books."
The full list of the 20 selected books, which cover a range of genres including crime, poetry, non-fiction and science fiction, is available online at www.worldbooknight.org/books
World Book Night is run by the Reading Agency, a national charity that inspires people to become confident and enthusiastic readers to help give them an equal chance in life.
People in East Sussex can find information about their local library, join a library or search the library catalogue online at www.eastsussex.gov.uk/libraries
More information is available by calling the East Sussex libraries and information service on 0345 6080196.