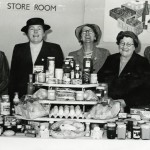 A CENTURY of the Women's Institute was celebrated at The Keep with the help of one of the largest archive collections in the country.
Staff at Sussex's archive resource centre created a display of WI history for 120 members of the East Sussex Federation of Women's Institutes who travelled to Moulsecoomb to mark the occasion.
"We were honoured to be part of this important celebration of an organisation which has enhanced the lives of so many women," said Elizabeth Hughes, county archivist for East Sussex County Council.
"The preparation of the exhibition was particularly rewarding. As an archive repository, our holdings are normally safely locked away in secure storage, and it was great to have an opportunity to get documents out on display."
The display included local scrapbooks, which date from the early days of the movement to the Millennium. Many were either entries for the WI village scrapbook competition to celebrate the Coronation of Queen Elizabeth in 1953, or a competition to mark the Golden Jubilee of the WI in 1965.
The books contain photographs, news cuttings and other papers, and are good sources for social history; often containing early unique material which would otherwise have been lost.
"The WI archive is rich and extensive. It tells the story of the movement's early beginnings and traces its growth," Elizabeth added.
"The early emphasis on food production and preservation soon led to surpluses and in 1919 Lewes WI Market was launched as an outlet for the produce of WI members who had been involved in 'digging for victory' during the First World War, and local ex-servicemen working on Ringmer smallholdings.
"During the Second World War the expertise of the WI led to a request to help maintain the nutrition of the nation. The Ministry of Food allocated scarce sugar supplies to WI Preservation Centres so that they could make jam from fruit which would otherwise to waste. The archive includes accounts for the Forest Row Fruit Preservation Depot between 1940-1941."
As well as finding out about the history of the WI in East Sussex, visitors were given the chance to tour behind the scenes to view the strong rooms and to admire the map storage bags which WI volunteers helped to make for The Keep.
Speakers at the event on Monday, April 13, included Elizabeth Hughes, County Archivist, Anne Stamper, WI historian and Ringmer resident and Fiona Courage and Kirsty Patrick from the University of Sussex.