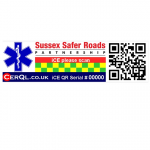 TECHNOLOGY that enables faster sharing of vital information about a motorcyclist or cyclist involved in an accident is being rolled out with the help of a road safety group.
The Sussex Safer Roads Partnership (SSRP), made up of local authorities and emergency services, is supporting the rollout of QR code stickers that carry personal information about the rider.
The stickers are designed to be fixed to a crash helmet and can be scanned by emergency services for personal and medical information.
Graeme Beattie, road safety officer at East Sussex County Council, said: "Any opportunity to provide first responders and the emergency services with marginal gains in the golden hour after a road traffic incident has to be supported.
"It is fundamental to find practical ways for road users to be able to share medical or personal information in critical situations, and we believe that these stickers provide an easy and up-to-date approach that can help towards increasing the likelihood of a positive outcome in such situations."
The iCEQR (In Case of Emergency Quick Response) stickers have been produced by CERQL – a company with expertise in this kind of technology – and will be handed out to motorcyclists and cyclists.
iCEQRs contain a QR code which, once scanned, reveal critical personal or medical details of the individual to first responders or the emergency services. On receipt of an iCEQR sticker, the rider or road user uploads details to the Internet via a personalised and secure web document, which can be updated at any time.
In conjunction with this initiative, from April 2015 South East Coast Ambulance Service (NHS) will be issued with computer tablets pre-installed with QR readers.
Throughout 2015, SSRP will be demonstrating and educating motorcyclists/cyclists at events across the region on the use of technology to enable faster sharing of critical personal information in emergencies, with free iCEQR stickers being given out to the first 5000 visitors to their stand.
More information about the initiative can be found at one of the following events;
• Eastbourne Magnificent Motors – May 2 and 3
• Hastings May Day Bike Run – May 4
• Plumpton College Open Day – May 9
• Eastbourne Cycle Festival – June 13 and 14
• Brighton Biker Night – June 16 and August 18
• Goodwood Festival of Speed – June 25 to 28
• Eastbourne 999 – July 11 and 12
• Bexhill Motofest – July 26
• Shoreham Air Show – August 22 and 23
For more information visit www.sussexsaferroads.gov.uk
About Sussex Road Safety Partnership – The SSRP uses encouragement, education, engineering and enforcement to reduce road collisions in Sussex. We focus on changing the road user behaviours that can result in death and injury by using years of experience and research.
About CERQL – CERQL supply iCEQR worldwide in two formats, helmet stickers and Tyvek or vinyl wristbands. Helmet stickers are designed for, but not limited to, motorcyclists, cyclists, winter sports enthusiasts, horse riders and construction workers; wristbands are effective for lost children and those with medical issues. iCEQRs have a storage capacity of 1500 characters and 10 photos. The URL of the page containing the information is embedded in a QR code and viewed using standard QR scanners which are widely available on mobile phones and tablets.