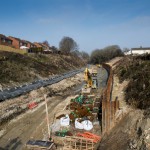 A NEW road designed to boost the economy and relieve traffic congestion is taking shape.
The move to British Summer Time has enabled longer working days for contractors on the Bexhill to Hastings Link Road and the project team is hoping the road will open later this year.
"We are now seeing good progress along the route of the road and significant areas are coming close to completion," said Bob Pape, the link road project director for East Sussex County Council.
"In the next few months we expect to see a major transformation of the site."
The exact opening date is dependent on a range of factors including the weather, deliveries by suppliers, unforeseen technical issues and seasonally restricted environmental work.
Projects completed this month include the surfacing work and road markings at Belle Hill, where the new road joins London Road, and lighting has been installed at the new Chapel Path underpass.
Environmental barriers have been installed along the tops of the railway cutting and slope stabilisation works are underway.
The construction of the replacement Ninfield Road bridge is rapidly taking shape with the bridge deck concrete pours due soon. Utilities are due to be installed over the next few months.
Across the entire site landscaping work is in progress, including the planting of new shrubs and trees and lighting is being installed at Queensway at the Hastings end of the new road.
Next month work is expected to begin on improvements to the existing Crowhurst Road. A temporary traffic control system will be in place while parts of the road are realigned and the county council's highways team carry out pothole repairs.
The new link road will help bring 2,000 new homes, 3,000 new jobs and more than £1 billion of economic benefits to the area. It will also relieve the high level of traffic congestion on the A259 between the two towns.