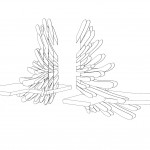 THE artist chosen to create seating outside Seaford Library will be sharing his ideas with the public on Saturday, May 30.
Pete Yarwood impressed a panel of volunteers with his design ideas and earned the commission from East Sussex County Council's library and information service.
As part of the project, Pete will share his designs (pictured) with members of the public before creating the new seating which will be installed near to the bus stop outside the library.
The project is one of three to be commissioned by the library and information service under the title Transparent. A £56,000 grant from the Arts Council will be used to create artwork for the county's three new library developments – Seaford, Newhaven and Hastings.
"Pete's artwork will contribute to the visitor experience at Seaford's new library and showcase great contemporary art to new audiences," said Cllr Chris Dowling, the council's lead member for community services.
"An important part of the project is community involvement and I am delighted that Pete is giving members of the public the opportunity to find out more about the piece and more about the artist behind it."
Pete will be at Seaford Library on Saturday, May 30 between noon and 5pm and will be available to show and discuss his designs.
For more information about the commission visit news.eastsussex.gov.uk/2014/06/04/call-for-artist-to-contribute-to-seafords-new-library/
Artists competing for the Transparent commission were asked to submit five images of previous, relevant work and a statement detailing relevant experience, as well as early ideas and information on how the process would be shared with the community.
The selection panel for Seaford included Seaford Library customers, local county councillors, a Youth Cabinet representative, an East Sussex Seniors Association representative, a senior library professional, a curator and a professional artist with a track record in creating public art.
Funding for Transparent Seaford includes £20,000 of Arts Council England Lottery Funding, £2,500 from East Sussex County Council and £100 from Seaford Town Council.