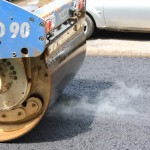 MAJOR investment in the county's road network is paying off, with the latest mechanical survey showing signs of significant improvement.
East Sussex County Council carries out an annual survey to identify the level of work needed to bring roads up to scratch. The results, along with those from other local authorities, are then submitted to the Department for Transport.
The latest computerised investigation of road conditions shows that just five per cent of principal roads in East Sussex require improvement, compared to 14 per cent in 2007/8 and seven per cent in 2013/14.
"Since 2010 we have invested more than £50million in our roads and will invest a further £50million by 2017," said Cllr Carl Maynard, the county council's lead member for transport and environment.
"The road network is vital to the prosperity of the county and the level of investment we have made, and continue to make, recognises this. I am delighted that the significant amount of money we are spending to maintain and improve our roads is having such a positive impact."
As well as improvements to the condition of principal roads, the survey shows that unclassified roads in East Sussex have improved against the national trend.
In 2013/14, 25 per cent of unclassified roads needed maintenance compared to 22 per cent in the latest survey. This follows investment of £10million for their improvement.
The condition of non-principal roads has remained the same.
Cllr Maynard added. "We have seen steady improvement and significant investment in the past eight years and our roads are now in a much better state.
"With a number of major resurfacing schemes in the planning and continued investment in smaller scale repairs, we are confident that we will see this trend continue."
The latest road condition survey for East Sussex was carried out at the end of 2014
Road condition surveys are carried out during autumn/winter each year and reported to the Department for Transport. The DfT is expected to publish national results for 2014/15 in March 2016.
Data on the condition of road surfaces are collected by a survey vehicle which scans roads as it travels and assess their condition. All local authorities use the same process.