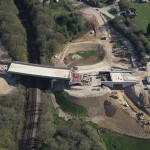 ONE of the biggest engineering projects on the new Bexhill to Hastings Link Road is nearing completion.
A new bridge at the Queensway end of the scheme has been constructed to span the Crowhurst to West St Leonards section of the railway line.
The work included pouring approximately 2,600 m3 of concrete before a a 600 tonne crane was used to lift giant steel beams, specially forged at a South Wales foundry, into place. Each beam weighed between 36 and 79 tonnes.
Bob Pape, East Sussex County Council's Project Manager for Link Road scheme, said: "All major work on the railway bridge is now complete and it is a triumph of engineering. We are delighted with the progress of this part of the scheme which marks a major step forward for the project. I would like to thank everyone involved for their hard work."
In the next month Crowhurst Road will be diverted and straightened alongside the western side of bridge. East Sussex County Council will also be carrying out repairs to the existing road.